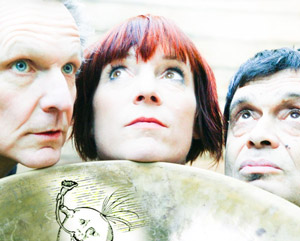 World & Jazz - Bruxelles, Vlaanderen, Wallonie
Aurélie Dorzée violin, viola d'amore, trumpet, psalterion, voice & compositions
Tom Theuns Mandolauoto, mandolin, voice, sitar, banjo guitar & composition
Michel Massot Euphonium, saxhornalto, trombone & susaphone
www.aureliedorzee.com

© eRno le mentholé

Ce savant mélange évoque des tableaux anciens ou des contrées lointaines. Des sonorités orientales prennent la forme d'une danse folklorique ou d'une ballade médiévale. Ces trois alchimistes distillent le son à la recherche de la "pierre philomusicale". Ils expérimentent, improvisent et inventent au coeur de leur laboratoire remplid'étranges instruments comme la viola d'amor, le mandolauoto, le psaltérion, le violon à clou, le susaphone, la sitar. Certains ont été construits spécialement pour ce projet par des luthiers. Pour ce 6 ème album sous le label homercords.be,Aurélie Dorzée & Tom Theuns invitent le légendaire Michel Massot, maître des cuivres, pour un opus ... en or !

NL Elixir, kwintessens van het leven, gepuurd uit extracten van Europese folklore en middeleeuwse ballades, uit echo's van caravanserai langsheen de zijderoute. De sublimatie van dit brouwsel werd verkregen door een procédé van strakke composities en improvisatie. Voor hun zesde plaat bij Homerecords nodigden Aurélie Dorzée en Tom Theuns dit keer de legendarische koperblazer Michel Massot uit. Deze drie alchemisten leven zich uit in een laboratorium vol vreemde instrumenten waarvan sommige speciaal voor dit avontuur zijn uitgevonden en vervaardigd door enkele bekwame vioolbouwers. Zo hoort u de viola d'amore, mandolauoto, trompetviool, psalterion, sitar, spijkerviool, sousafoon, harmonium, mandoline, banjo,...

EN This crafty concoction brings to mind ancient art works and faraway lands. Oriental melodies take the form of a folk dance or a medieval walk. These three alchemists brew sounds in quest of the "philomusical's stone". They experiment, improvise and invent in their secret laboratory filled with strange instruments, such as the viola d'amore, mandolauoto, psaltery, nail violin, sousaphone, and sitar. Some had been specially fabricated by stringed instrument makers for this project. For their 6th album under the label homerecords.be, Aurélie Dorzée & Tom Theuns invited the legendary Michel Massot, master of brass instruments, for a golden opus!